Description
Have you been experiencing challenges as if you are stuck somewhere in life?
Are sensing that you are operating at one level, but you know there is more?
Is there a call of God on your life and you want to advance in ministry?
Those around you, do they seem not to desire as much growth as you do?
Are you hungry for more of God and just desire to go for it?
Then this book and the equipping session is for you!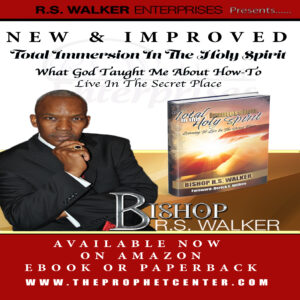 "Total Immersion in The Holy Spirit" is accomplished when we go beyond our ability and completely surrender to the will of the Holy Spirit. There are far too many times we don't seek God first and find the direction needed for our lives. There are things God desire to do, not only for us but also through us to show himself strong in the earth. Some gifts lie in us; they only require our submitting to The Holy Spirit. People of God, there is a fantastic power that lives with you!
This book and the equipping session is about unveiling God's power that lives within you—gifts of prophecy, the gift of tongues, word of wisdom, word of knowledge and so much more lives in you. Everything God equipped you with it's in you. The Holy Spirit must activate those supernatural abilities and will by your finding your position in the secret place. Yes, there are many truths from God's Word that we will unlock within the pages of this book and the outpouring of revelation in these equipping sessions. You will break forth into a fresh new place in God.
Many people pray in the flesh, praise in the flesh, and do many other things in the flesh yielding no results – for they did not enter the realm of the Spirit. What you'll receive reading this book or participating in this equipping session will generate the richness that breaks you forth into the freshness of the Holy Spirit learning to hang out in the secret place. Enjoy this book, enjoy the equipping session, and enjoy the new you as you break into the freshness of the Holy Spirit.