Encountering and Living In God's Presence
At one point in my life, I got stuck. I was operating on one level, but sensed that I needed to be on another. I wasn't content. I kept sensing there was more…that there was something greater. Then the light came on and I realized I needed more from God just as He did from me. God called me to greatness and I had to pursue it! Advancing in God was all I thought about. The opportunity was there, but I had to pursue it. I had to pursue that deeper level of intimacy with God. I had to reach for it. My goals and my will had to change and there was only one way to bring about that change… through ''total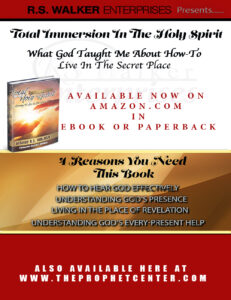 immersion'. Confronted with the reality that I lacked God's way of getting into His presence, I knew I had to change my heart. I knew I had to develop a heart for being totally immersed in God's Holy Spirit.
This book is all about creating a hunger for God and an exponential desire to grow and live in the secret place. 'Total immersion in the Holy Spirit' is accomplished when we go beyond our physical ability and surrender to the will of the Holy Spirit. There are far too many times that we don't seek God first to find the direction needed to change our lives. God desires to do things, not only for us, but also in us and through us, and He will manifest powerfully in our lives if we allow Him. Lying dormant in us are some gifts that we have not considered. They only require submitting completely to the Holy Spirit. God's supernatural power lives with us! The activation of God's power and its unleashing happens when we completely surrender to Him.
By reading the pages of this book and applying what you read, you will begin to see many truths from God's Holy Word and you will experience an outpouring of revelation. You will break forth into a fresh new place in God.
Here is the challenge we encounter: many people pray in the flesh, praise in the flesh, and do many other things in the flesh, yet yield no results – for they did not enter the realm of the Spirit. Reading this book will generate the richness that moves you into the freshness of the Holy Spirit. When you learn to be totally immersed in God's Holy Spirit and to live in His presence, the freshness of God will erupt in your life forever. Enjoy this book! Enjoy the equipping session! -Enjoy the new you as you break forth into the freshness of the Holy Spirit!